Driving Licence status Himachal Pradesh : Driving licence Applicants can also use the Online Facility to Track the Status of their Driving Licence Application Online. if you submit your driving licence application successful then You don't have to go to the RTO office for check your application status because online facility available vie sarthi parivahan website or regional transport website. Driving licence is essential for anyone who wants to drive a vehicle. Drivers without a Driving Licence are subject to fines. Sarathi Parivahn website allows you to apply online for Driving Licence. You can also take driving skills test at RTO. Driving licence will be granted after passing the driving test for DL. The application status can be viewed within 30 days of passing the RTO driving skill test.
Check Your Driving License Status in Himachal Pradesh
It will display the status of your application after 30 days. You will need an application number and a mobile number to check your driving license application status. We will demonstrate how to check the status of your Driving Licence Application via sarthiparivahan (or regional website). This article is especially for those who have already applied for DL and Want to Check the Status of their Application. Check your application status to apply for name change in driving licence, address changes, Add class, or services on driving licensure.
A list of driving licence statuses that could be provided
Here is a listing of all the driving license applications that you have submitted. You can then view your driving licence status.
New Driving Licence
Status of driving licence application
Renewal of DL
Additional endorsement to DL
Change of address on DL
Duplicate DL issued
Replacement of DL
Change in date of birth in DL
Change of name in DL
Change in biometrics for DL
International driving licence
Procedure Verify your Driving Licence Status Himachal Pradesh
If you applied for driving license on sarthiparivahan website, and would like to see your status regarding driving licence application, please follow the steps below:
Step 2: Select from the menu to online services -> Driving Licence Related Services.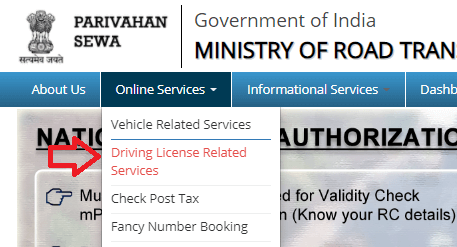 Step 3: Select your state and open a new tab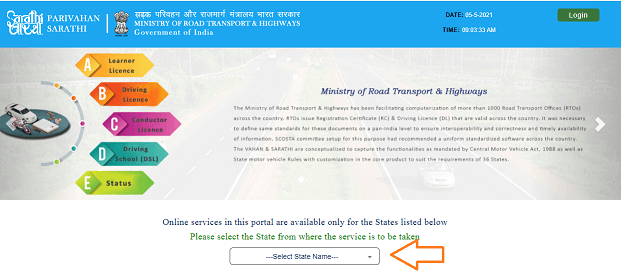 Step 4: Now select from main menu to "Status of your application"

Step 5: Enter your application number, date of birth and captcha code.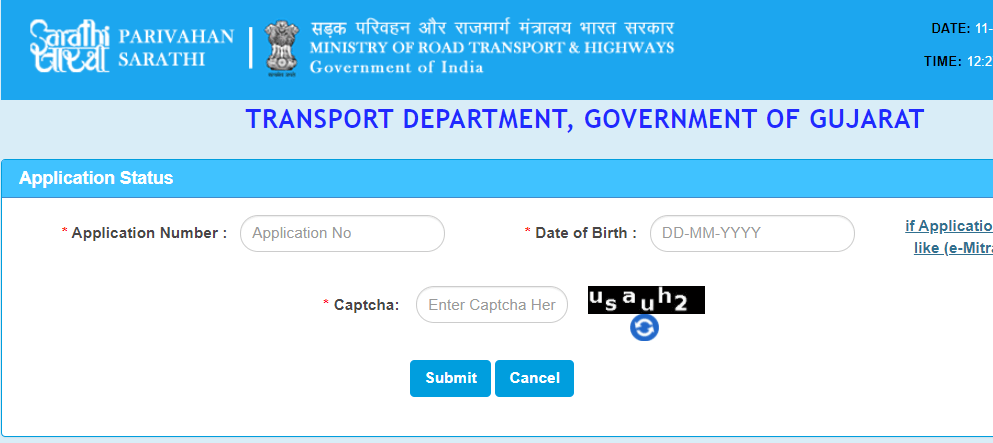 Step 6Click on the submit button to show your application status.
Procedure to check driving licence status Himachal Pradesh Regional Transport Portal
To check your driver's license status, use the transport department government of Himachal Pradesh. Next, visit the Himachal Pradesh transport Website https://himachal.nic.in/. open this website and Select from eServices to "Online Learner and Driving Licence".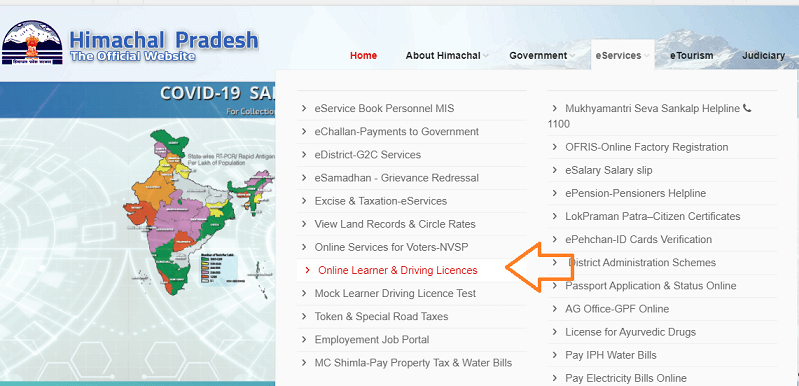 Go to Parivahan website, and then select the main menu. Application Status.

You can open Like a form to enter your application number and date of birth.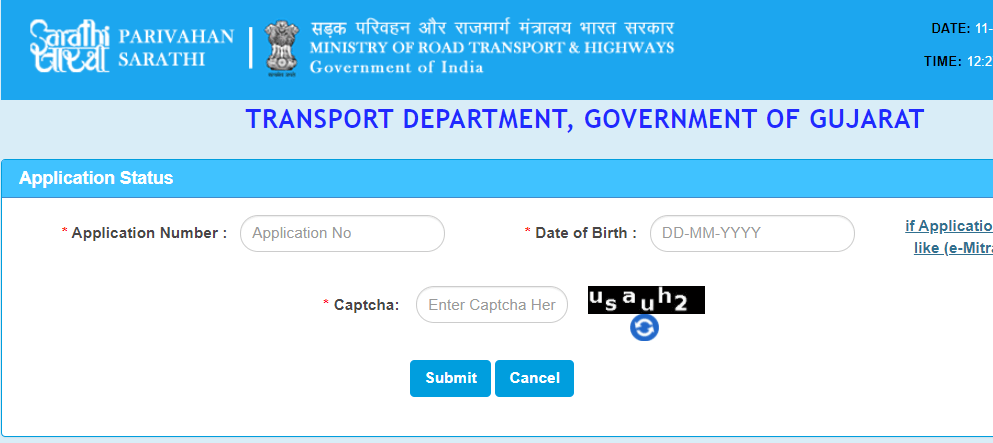 Once you have completed all information, click the submit button to display your application status.
Procedure to check driving licence status Himachal Pradesh Sarthi Parivahan Portal
Check your Driving Licence Status with Sarthi Parivhan Portal. Below is the process:
First, go to the parivahan official site Select your state from the dropdown menu.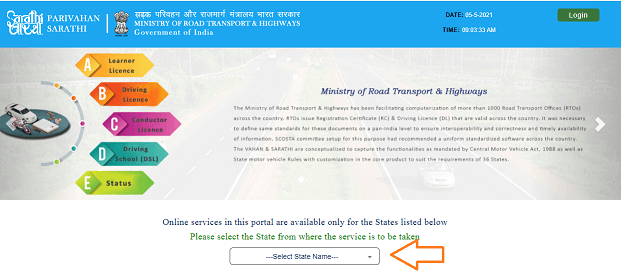 To access the main menu, open the tab parivahan driving service and click on it. Application Status.

You can open Like a form to enter your application number and date of birth.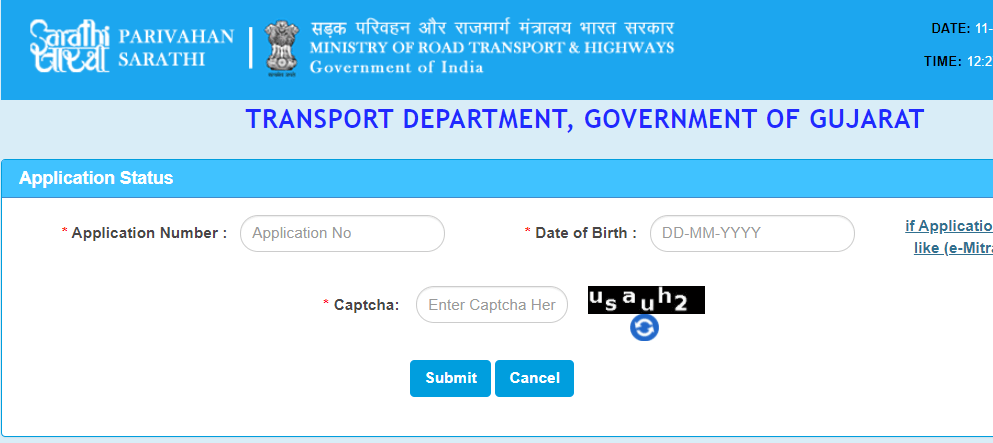 Once you've filled out all the details, click on the submit button. Your application status will be displayed on your screen.
It is important to know the status of your driving licence Online
Sarthi Parivahan website will update status within 30 days of successful application. When checking your application status, you will need your application number and date-of-birth. The driving license is valid for 20 years after renewal. Indian driving licence is valid.
Help Line Himachal Pradesh Transport Department
Chhota Shimla-171002, HP Secretariat
Mobile : 0177-2621581
Email : tptmin-hp@nic.in
List of RTOs in Himachal Pradesh
The following is the Himachal Pradesh RTO List.
| RTO LOCATIONS | RTO CODE | RTO LOCATIONS | RTO CODE | RTO LOCATIONS | RTO CODE |
| --- | --- | --- | --- | --- | --- |
| Shimla | HP01 | Pooh | HP27 | Baijnath | HP53 |
| Shimla | HP02 | Sarkaghat | HP28 | Jawali | HP54 |
| Shimla | HP03 | Jogindernagar | HP29 | Nadaun | HP55 |
| Dharamsala | HP04 | Karsog | HP30 | Jaisinghpur | HP56 |
| Mandi | HP05 | Sundernagar | HP31 | Chowari | HP57 |
| Rampur | HP06 | Gohar | HP32 | Manali | HP58 |
| Shimla | HP07 | Mandi | HP33 | Solan | HP59 |
| Chaupal | HP08 | Kullu | HP34 | Hamirpur | HP60 |
| Theog | HP09 | Anni | HP35 | Kullu | HP61 |
| Rohru | HP10 | Dehra | HP36 | Shimla | HP62 |
| Arki | HP11 | Palampur | HP37 | Shimla | HP63 |
| Nalagarh | HP12 | Nurpur | HP38 | Solan | HP64 |
| Kandaghat | HP13 | Dharamshala | HP39 | Mandi | HP65 |
| Solan | HP14 | Kangra | HP40 | Kullu | HP66 |
| Parwanoo | HP15 | Kaza | HP41 | Hamirpur | HP67 |
| Rajgarh | HP16 | Keylong | HP42 | Dharamsala | HP68 |
| Paonta Sahib | HP17 | Udaipur | HP43 | Bilaspur | HP69 |
| Nahan | HP18 | Churah | HP44 | Nahan | HP71 |
| Amb | HP19 | Pangi | HP45 | Una | HP72 |
| Una | HP20 | Bharmour | HP46 | Chamba | HP73 |
| Barsar | HP21 | Dalhousie | HP47 | Paddhar | HP74 |
| Hamirpur | HP22 | Chamba | HP48 | Dodra Kawar, Distt. Shimla | HP76 |
| Ghumarwin | HP23 | Banjar | HP49 | Bangana, Distt. Una | HP77 |
| Bilaspur | HP24 | Shimla | HP50 | Sangrah, Distt. Sirmaur | HP78 |
| Kalpa | HP25 | Shimla | HP51 | Haroli, Distt. Una | HP79 |
| Nichar | HP26 | Shimla | HP52 | Salooni, Distt. Chamba | HP80 |
Learn More
Similar