Marriage certificate download Tamil Nadu | Marriage Registration online Tamil Nadu | Check Marriage certificate status in TN
Tamil Nadu government services as well as nagarpalika services are available online. Today's central government aims to provide transparent and digital services for all Indian citizens. The Tamil Nadu government is also trying to make all services available online. The municipality currently offers online services such as marriage certificate. Birth certificate, death certificate, property taxes pay online, and so on. We will show you how to register for a Marriage Certificate.
Tamil Nadu: Download Marriage Certificate
In Tamil Nadu, marriage certificate is a very important document. Many places use Marriage Certificates, such as name changes in all documents, name addition in passport, name change in wife name, and so on.
Tamil Nadu: Requires a document to obtain a marriage certificate
Here is a list with all the documents needed for the Tamil Nadu Marriage Certificate:
Photo of the Groom
Photo of the bride
Photo of Groom and Bride at Marriage
Identification proof of the Bride
Identification proof of the groom
Wedding card for marriage
Any one ID that can be used to prove the parent of the groom
Any one ID of the Parent of the Bride
Oath Letter to Bride and Groom (in case of registration lasting more than 20 days)
In the case of marriage performed in temple or aryasamaj, priest/institute certificate
Parshad: Marriage Hall Recipient/ Punchnama
Documents required to verify groom birth date – Birth Certificate/Driving License/Aadhar Card/Marksheet Photocopy
Documents required to verify bride birth date – Birth Certificate/Driving License/Aadhar Card/Marksheet Photocopy
Affidavit from the bride with undertaking
Affidavit of groom with undertaking
Witness 1 ID Proof of Address
Witness 2 ID Proofs for Address
Photocopy of Non-availability Certificate
Tamil Nadu Procedure for Downloading Marriage Certificate
You can download a Tamil Nadu marriage certificate online. Next, you will need to visit a TN registry website. open this website and select main menu to eServices -> Search -> Marriage Certificate.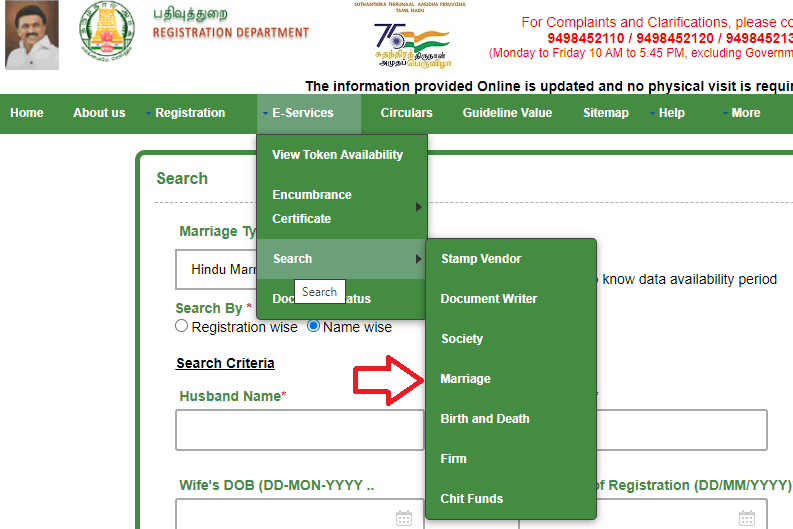 Start a new page, then select the marriage type. Next select register wisely or name wisely and complete details.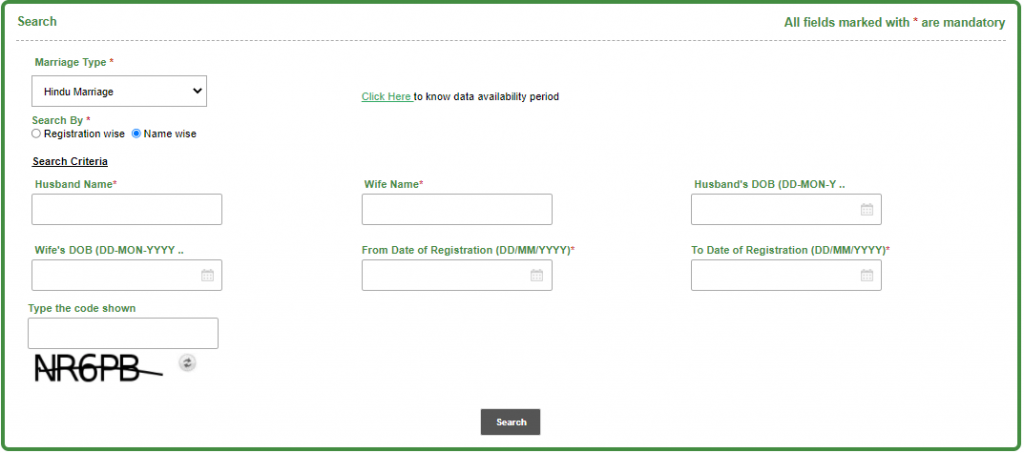 Click the search button to see your marriage certificate on the computer screen.
Tamil Nadu Procedure for Marriage Registration
Logging in to tnreginet is required if you wish to register your marriage online Open this website and register as a user.

Login to complete the marriage registration form
Learn More
Similar