No Objection Certificate Mizoram Download: If you are selling your vehicle (car or bike, truck or otherwise), you will need to obtain a NOC. You must have a NOC to transfer your vehicle ownership in Mizoram if you wish to purchase or sell your car/bike. A no objection certificate indicates that there is no vehicle tax in Mizoram, and it can be bought. It is very important to have the vehicle's RC book transferred. Vahan Parivahan Portal allows you to access these services online.
Mizoram – Download NOC Vahan Online
If the owner wants to sell his vehicle or remove it from the jurisdictions of the registering agency within or outside of Mizoram State, he must file the application for issuing a clearance certificate at the registering body where the vehicle was registered. Vahan service is made easier by Parivahan portal. Vahan Parivahan website allows you to perform all vehicle-related services online. This post will show you how to obtain a Vahan NOC certificate. You must pay your vehicle tax first if it is pending. How to pay your pending tax payment vehicle Please see below. It is very easy to obtain a NOC online. If you are selling your vehicle, you will need to obtain the certificate. When the buyer transfers the rc owner's name, at that time you will need NOC.
Documents are required Vahan, NOC In Mizoram
Application Form 28
A certified copy of this certificate of registration
Copy certified of the certificate of insurance
Documentation proving payment of motor vehicle taxes up-to-date
Pollution under control certificate
Chassis & Engine Pencil Print*
Signature Identification of owner*
Vahan PDF NoC Certificate In Mizoram
Follow the below steps to obtain your vehicle NOC certificate PDF for car or bike online in Mizoram via Vahan Parivahan website
Step 1: First you must have to Login on vahan Parivahan website "vahan.parivahan.gov.in/vahaneservice/" if you do not have account then first register your self.

Step 2: Select main menu to "Online Services" and select "Application for No Objection Certificate(NOC)".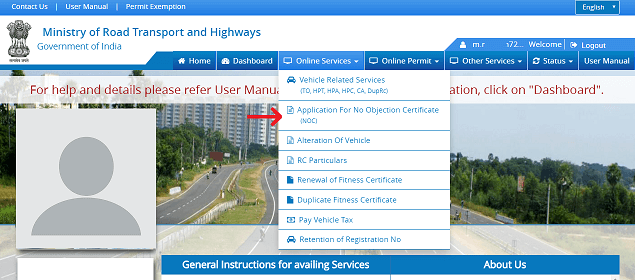 Step 3Enter your Registration Number, Chassis number and click on Generate OTP.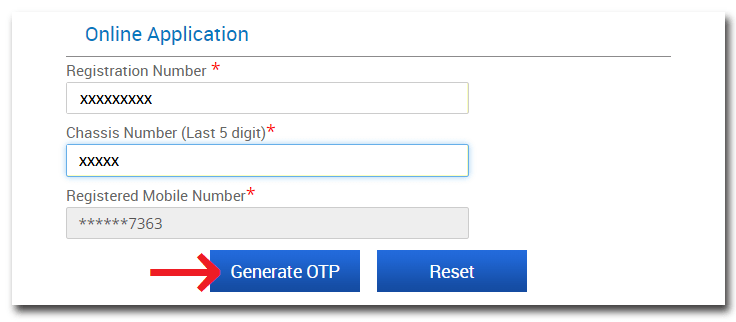 Step 4OTP will be sent to registered mobile number Enter the OTP, and click on Submit Button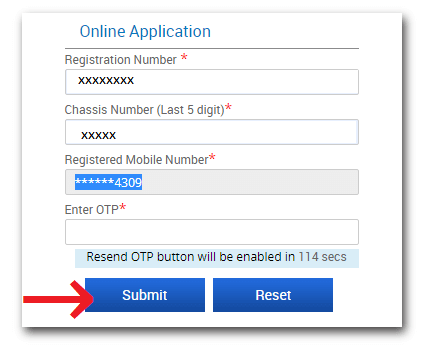 Step 5: Click on "Issue of NOC" under "Service Details" in Status block on the left. Click on "Issue of NOC" under "Service Details" and then click Submit.

Step 6: Click on "Insurance Details" under "Service Details" in Status block on the left. Click on the Submit button to complete the details.

Step 7To upload required documents, click on DMS (Upload Docs). Select the desired file to be uploaded. Press 'x' button on top-right when you are done.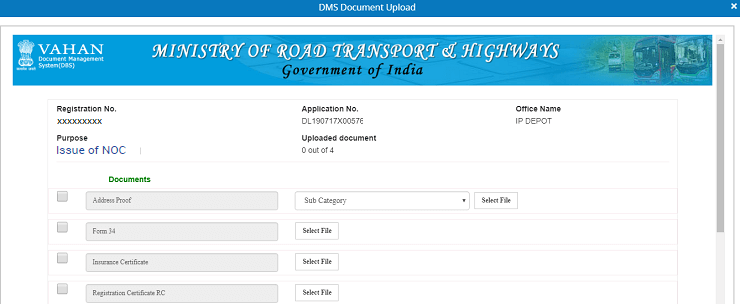 Step 8: Click on "Fee Details" under "Service Details" in Status block on the left. You can pay the amount by clicking on Make Payment and Submit.

Step 9: You can obtain a NOC (No Objection certificate) for your vehicle after you have successfully paid.
Procedure for paying pending vehicle tax NoCMizoram
To obtain the NOC of your vehicle, you must first pay the tax. Below is the process to pay vehicle tax.
Vahan Parivahan Website is required https://vahan.parivahan.gov.in/vahanservice/Open official website and then click on Proceed.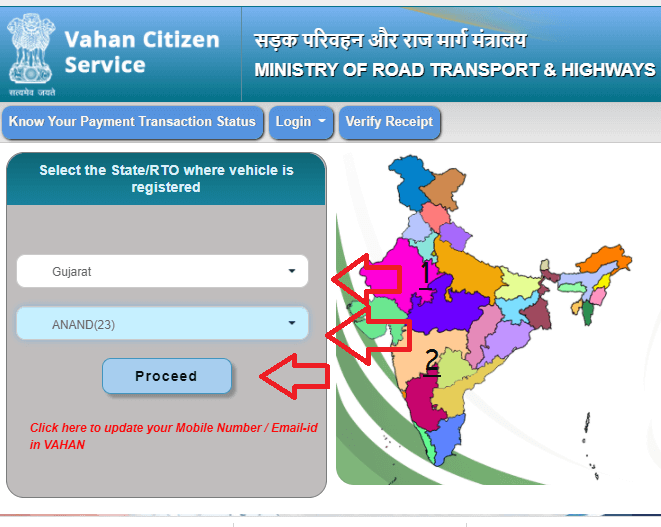 You can use the main menu to choose RC-related services to pay your taxes.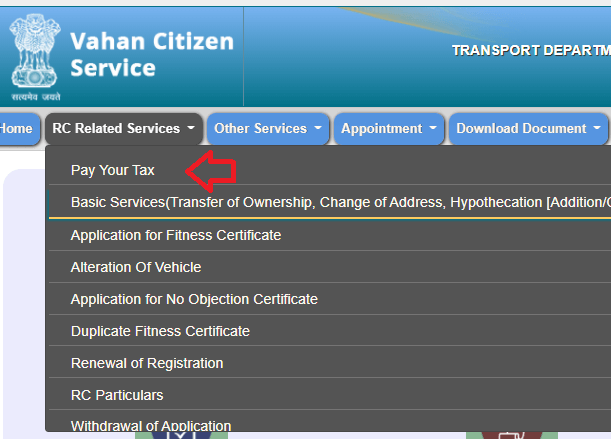 Enter your vehicle registration number and see how much is pending vehicle tax.

Pay your pending vehicle tax using online like a net banking or debit card. After you have successfully paid your vehicle tax, you can transfer ownership.
FAQ
What is an NOC (No Objection Certificate) for Vehicle?
No Objection Certificate is a legal document issued by the Regional Transport Office (RTO) as permission for a release of a clearance certificate with the registering authority.
Help Line Number Vahan Parivahan
You can contact the following for technical assistance regarding Vehicle registration, fitness tax, Permit, Fancy or Dealer, as well as Tax, Permit, Fancy, Dealer, and other related issues:
Email : helpdesk-vahan[at]gov[dot]In
Phone: +91-120-4925505 (Timings: 6:00 AM – 10:00 PM)
Toll-free: 1076
Refer to: Vahan.parivahan.gov.in
Learn More
Similar