Marriage Registration Haryana | Registration for marriage certificate in Haryana | Haryana Marriage Certificate Download
Haryana government offers online marriage registration. Today, Haryana government aims to provide transparent and digital services to Indian citizens. The Haryana government is also trying to make all services available online. The municipality currently offers many online services, including marriage certificate, birth certificate and death certificate. You can also pay your property tax online. Haryana's edisha.gov.in portal can be very helpful for citizens. All services can be done online with edisha. This post will describe how to register for a Marriage Certificate, how to download a Marriage Certificate, and how to check the status of your marriage registration application.
Haryana Marriage Certificate Download
Haryana is very proud of the marriage certificate. You can use marriage certificates to change your name on any document, add your name in passport, passport, or wife name change. in this post you guide to you can check your marriage registration application status and you can apply for marriage registration online in Haryana using shaadi.edisha.gov.in.
Haryana: Requires a document to obtain a marriage certificate
Here is a list with all the documents required for marriage registration in Haryana:
Formulation.
1-1 Passport-size photos of Groom & Bride separately.
Three Marriage Photos of Groom & Bride
Groom ID and Bride ID.
Wedding card of marriage
One ID of the Bride and Father of the Groom.
Oath Letter to Groom and Bride (in case of registration lasting more than 20 days).
In case of Marriage performed in Temple/Arya Samaj, Priest/Institute Certificate
Parshad Marriage Hall Receipt/Punchnama
Documents needed to confirm Groom's and Bride's Date. – Birth Certificate/Driving License/Aadhar Card/Marksheet Photocopy.
2 Witness ID with Address.
Online registration of marriage in Haryana
First, register online if you have been married or want to file for Haryana marriage registration online shaadi.edisha.gov.in website. now open this website and click on main menu to " Account >> Register ".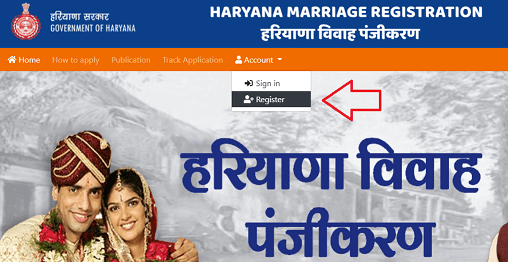 Fill in all information and click on the Send otp button.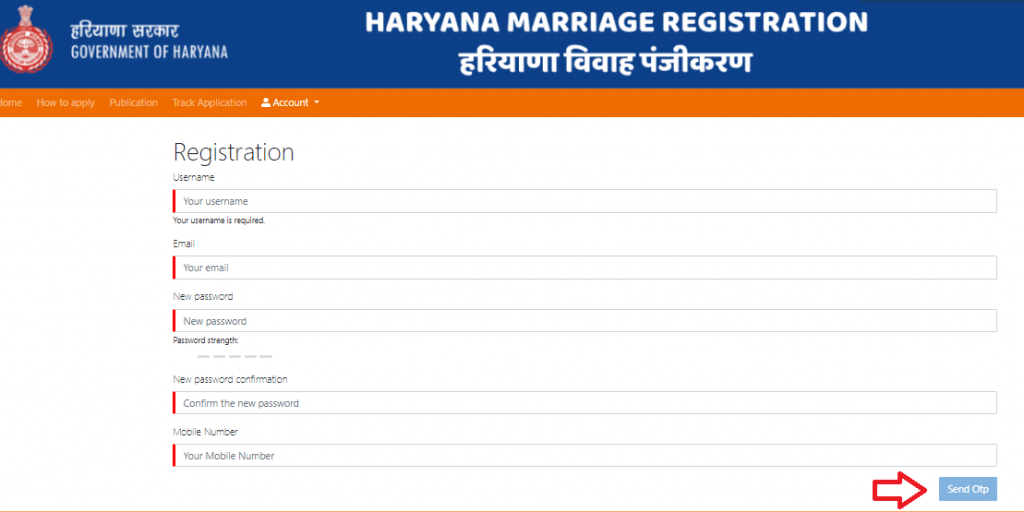 After successful register user you can login your account in shaadi.edisha.gov.in.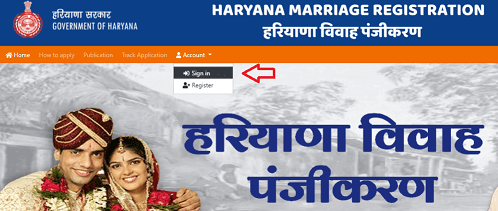 Login and select the right side to register for marriage.

Now, fill out the form.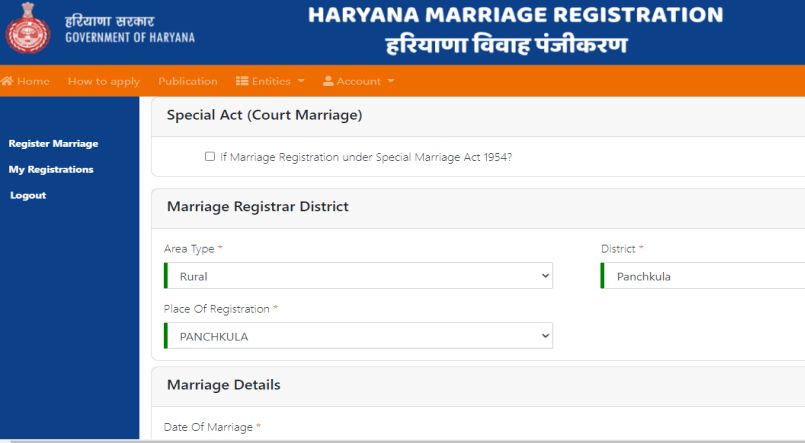 Complete all details and submit the Marriage Registration Application.
Next, pay the application fee payment. Marriage registration payment shall be done by clicking on 'My Registration' tab and then click on 'View' tab of application. Multiple registrations can be done by the same login. open this PDF See the complete instructions on how to pay application fees.
Procedure to check the status of your marriage registration application
If you applied for marriage registration online at Shaadi.edisha.gov.in or you wish to check your status as a married applicant, go to shaadi.edisha.gov.in. Click on main menu to see your status.

Enter your Application ID, and then click on the Get Record Button.

Display your status in relation to your marriage certificate application on your screen
Learn More