RC Transfer in Ahmedabad | RC Transfer in Ahmedabad | RC ownership name change Ahmedabad | Change ownership name in RC book online Sarthi Parivahan
Vehicle Ownership Transfer Ahmedabad. If you wish to purchase or sell your vehicle, then you must transfer your vehicle ownership in Ahmedabad. Vehicle ownership transfer is very important because the owner's name will be on the RC books and buyers will want their name in the RC book. if you want to transfer your name vehicle to other person's name then read this article. old vehicle want to sell then you need to transfer your vehicle to buyer's name.
Online Vehicle Ownership Transfer in Ahmedabad
Easy transfer of ownership of vehicle, all services made online via parivahan portal. Transfer of ownership of a vehicle within a state is defined as transfer within the territorial boundaries of the state. We can sell a vehicle that was registered in Ahmedabad if it is owned by us. A normal sale occurs when ownership of the vehicle is transferred to another owner or sold to another person. A NOC is required for this type of sale.
Documents Required Fees
NOC (No objection Certificate).
The application for a change of ownership must be submitted in Form-29 and Form-30 along with a print of chassis number with pencil.
To transfer ownership by inheritance Form 31 and in case of change of ownership due to public auction, application in Form 32 should be made.
Together with the original R.C. Book, Insurance Certificate, P.U.C. Be sure to attach a copy of your certificate and proof of identity.
Transfer fees for two-wheelers are Rs.150/per and motor cars Rs.300/per.
As transfer tax, a lump sum tax @ 15% should be paid. However, vehicles older than 8 years must pay tax @ 1% and Rs.100/-, depending on which is higher.
Online Transfer of Vehicle Ownership in Ahmedabad
Follow these steps to transfer ownership of your vehicle.
First, obtain a No Objection Certificate (NOC) from your seller. Now, open the official website of Parivahan and select menu from Online Services >> Vehicle related Services.

Now, select your state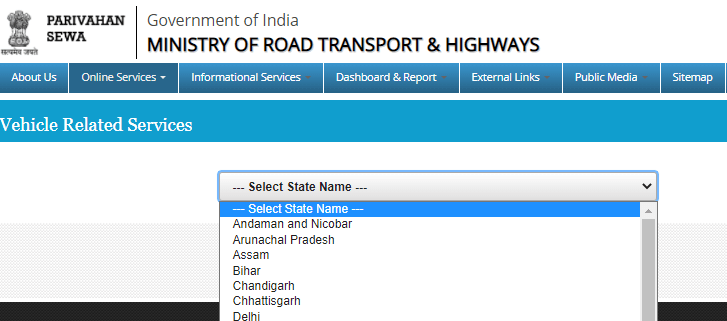 Select your RTO for vehicle registration, and then click on Proceed.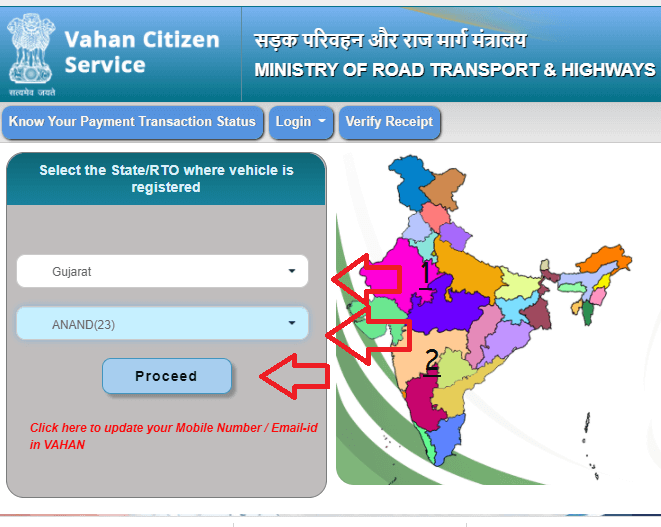 You can apply online for transfer of ownership, address change, and hypothecation [Addition/Continuation/Termination], Duplicate (RC)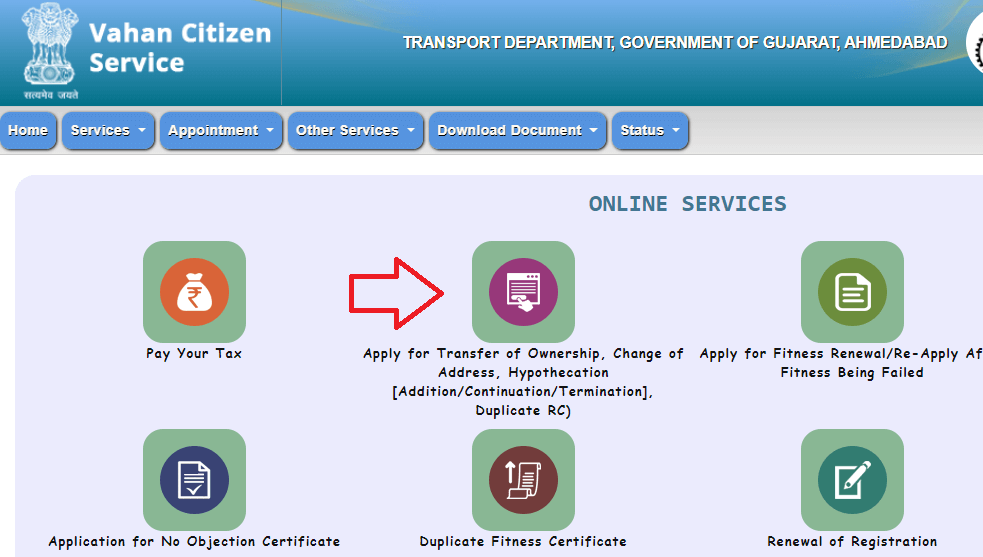 As a Vehicle Registration Number, enter your vehicle details. Click on the VERIFY DETAILS Button to verify details.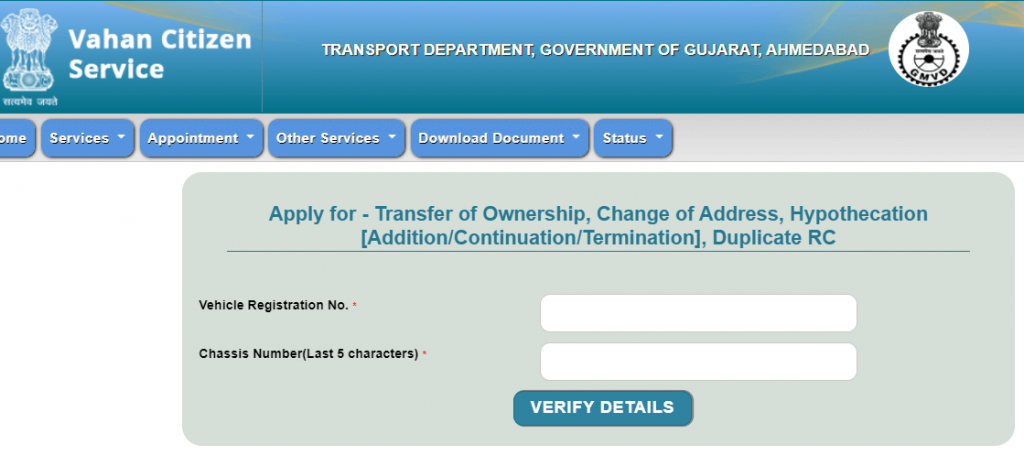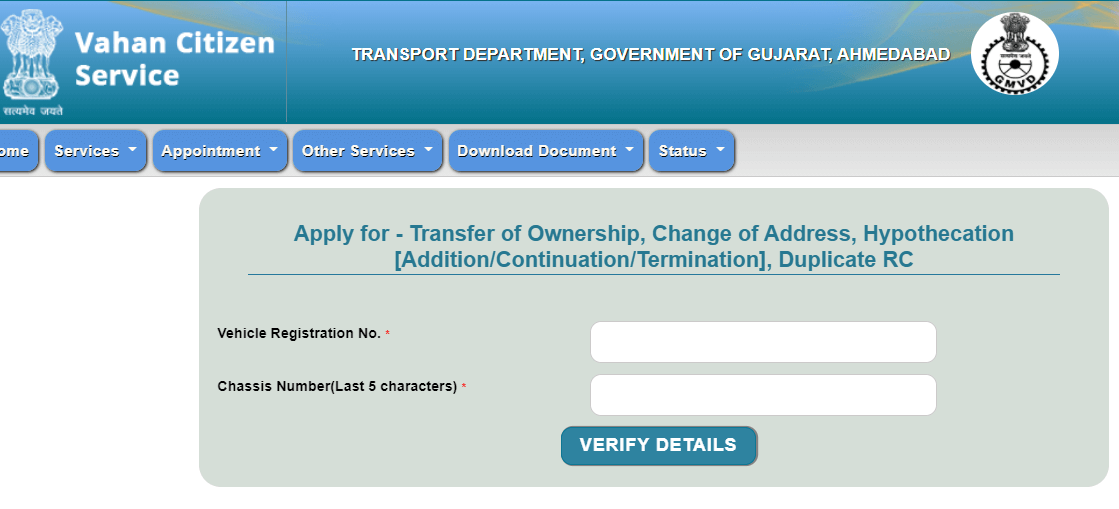 You will now see the entire details of your vehicle. This will give you all the details about your vehicle. What is the name of your vehicle? When was it registered? And when does your insurance expire? All of this information is available here.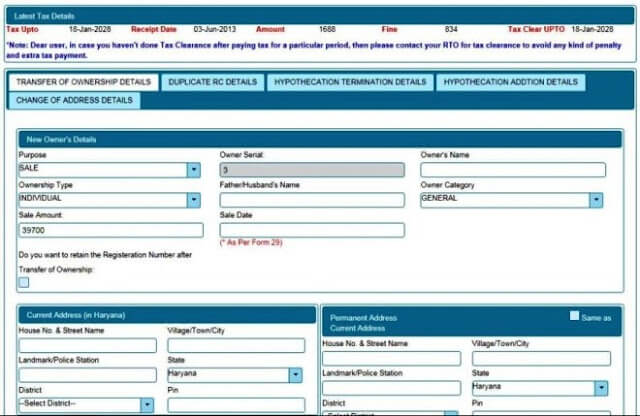 You will now need to scroll down a bit more, and you'll see the bike or car transfer fees.

Once again, you should verify your information and confirm the address and name of the person to whom you wish to transfer your car. Once you have confirmed all details, click on the below payment option. Payment online, payment successfull and submission
This Stage Is Complete Confirmation box will be shown to the applicant Screen. Continue to confirm the details.

Once you have made payment, submit your application and generate a reference receipt. This receipt is required for the next step. Next step is to pay your vehicle tax
Procedure for paying pending vehicle tax in Ahmedabad
You must first pay the pending tax if you want the vehicle to be transferred. After that, the vehicle will be given to you.
Vahan Parivahan Website is required https://vahan.parivahan.gov.in/vahanservice/Open the official website, then choose your state and RTO, and click on the Proceed button.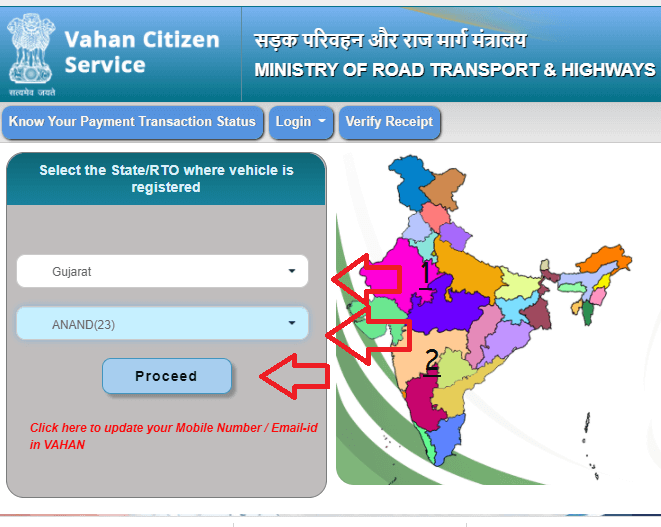 Main menu: Select RC related services to pay tax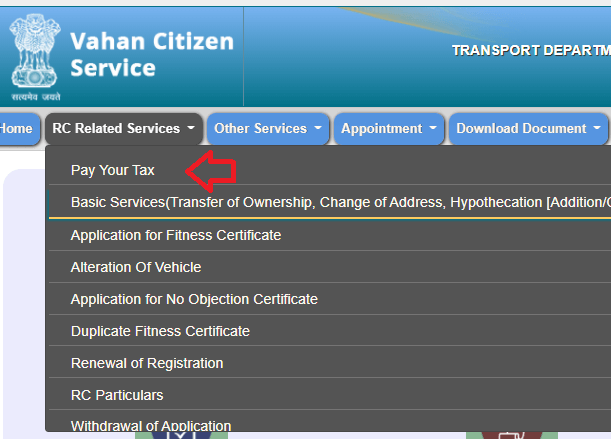 Enter your vehicle's registration number to check the amount of vehicle tax pending.

Pay your pending vehicle tax using online like a net banking or debit card. You can then transfer the vehicle's ownership after you have made the payment.
Continue reading:
Similar